Podcast: Play in new window | Download | Embed
Subscribe: Apple Podcasts | Google Podcasts | Spotify | RSS
Would you rather read the transcript? Click here.
Irritability in kids has been a personal and professional interest for nearly two decades. I went to grad school at a time when pediatric bipolar disorder was the "hot" diagnosis, only to find out several years later that the irritability so often seen as representative of bipolar in kids did not actually predict a bipolar diagnosis during adulthood. The advent of disruptive mood dysregulation disorder advanced our knowledge quite a bit, yet these irritable kids continue to fall in a gray area as far as diagnosis and treatment. Dr. Melissa Brotman is here with me chatting all about her work with pediatric mood concerns, with a focus on the irritability and angry outbursts that so many of us see. These are some of the topics that we cover:
The history and classification of pediatric mood disorders
The relationship between irritability, anxiety, and depression
Melissa's exposure-based treatment with angry kids
Ecological Momentary Assessment and app-based mood tracking
Cool Things Mentioned
Featured Resource
I am honored to partner with PAR for 2021 to bring you featured items from their catalog! Listen to each episode for specific product recommendations and links. Learn more at www.parinc.com.

The Testing Psychologist podcast is approved for CEU's!
I've partnered with At Health to offer CE credits for podcast episodes! Visit this link to access current and past episodes available for CE credit. You can use code "TTP10" for a discount on ALL the course credits you purchase from At Health!

About Dr. Melissa Brotman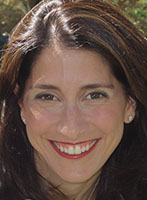 Dr. Melissa A. Brotman leads the Neuroscience and Novel Therapeutics Unit (NNT) in the Emotion and Development Branch at the National Institute of Mental Health (NIMH) Intramural Research Program (IRP). Dr. Brotman received her PhD in clinical psychology from the University of Pennsylvania, where she specialized in cognitive behavioral therapy for mood and anxiety disorders.
Her neurodevelopmental, translational research integrates basic and clinical approaches to the study of mood disorders in children and adolescents. Specifically, she uses affective neuroscience techniques to understand the brain-based mechanisms underlying severe irritability in youth and leverages that pathophysiological knowledge to guide the development of novel targeted interventions.
Contact info:
About Dr. Jeremy Sharp
I'm a licensed psychologist and Clinical Director at the Colorado Center for Assessment & Counseling, a private practice that I founded in 2009 and have grown to over 20 clinicians. I earned my undergraduate degree in Experimental Psychology from the University of South Carolina before getting my Master's and PhD in Counseling Psychology from Colorado State University. These days, I specialize in psychological and neuropsychological evaluation with kids and adolescents.
As the host of the Testing Psychologist Podcast, I provide private practice consulting for psychologists and other mental health professionals who want to start or grow psychological testing services in their practices. I live in Fort Collins, Colorado with my wife (also a therapist) and two young kids.
Ready to grow your testing services? Click below to schedule a complimentary 30-minute pre-consulting call!