Podcast: Play in new window | Download | Embed
Subscribe: Apple Podcasts | Google Podcasts | Spotify | RSS
Adrianne Meldrum is back today to talk about her process for hiring and retaining great staff. This episode is going to be particularly helpful for those of you with growing practices, but I think there are lots of nuggets for anyone who may be hiring, even at a small scale. I personally took away several solid ideas for improving our hiring and onboarding processes, and I'm sure that you will too. Here are a few things we touch on:
The five mistakes many of us make in hiring
Creating a positive "first 90 days" for new hires
The best places to find new hires
Using the DISC assessment in the hiring process
Cool Things Mentioned
Alex Charfen (business coach)
Books that Helped Me with Hiring:
Video Interview Software:
More Info About DISC Profiles:
Featured Resource
I am honored to partner with PAR for 2021 to bring you featured items from their catalog! Listen to each episode for specific product recommendations and links. Learn more at www.parinc.com.
The Testing Psychologist podcast is approved for CEU's!
I've partnered with At Health to offer CE credits for podcast episodes! Visit this link to access current and past episodes available for CE credit. You can use code "TTP10" for a discount on ALL the course credits you purchase from At Health!
About Adrianne Meldrum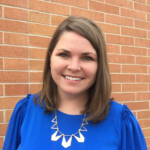 Adrianne Meldrum is the founder and owner of Made for Math (MFM), an all-online math center focused on serving students with dyslexia, dyscalculia, and math learning disabilities. She is a certified Multisensory Math Instructor through Marilyn Zecher. She holds a Master's Degree from Bridges Graduate School of Cognitive Diversity. Adrianne is married with three boys and lives in Mesa, AZ where she enjoys soaking up gorgeous sunsets!
Get in touch:
Website: http://madeformath.com/
E-mail: hello@madeformath.com
Unlocking Dyscalculia Web Series: https://madeformath.com/unlocking-dyscalculia
Social:
YouTube: https://www.youtube.com/c/MadeforMath
Facebook: https://facebook.com/madeformath
Instagram: https://instagram.com/madeformath
LinkedIn: https://www.linkedin.com/company/made-for-math
About Dr. Jeremy Sharp
I'm a licensed psychologist and Clinical Director at the Colorado Center for Assessment & Counseling, a private practice that I founded in 2009 and have grown to over 20 clinicians. I earned my undergraduate degree in Experimental Psychology from the University of South Carolina before getting my Master's and PhD in Counseling Psychology from Colorado State University. These days, I specialize in psychological and neuropsychological evaluation with kids and adolescents.
As the host of the Testing Psychologist Podcast, I provide private practice consulting for psychologists and other mental health professionals who want to start or grow psychological testing services in their practices. I live in Fort Collins, Colorado with my wife (also a therapist) and two young kids.
Ready to grow your testing services? Click below to schedule a complimentary 30-minute pre-consulting call!