Podcast: Play in new window | Download | Embed
Subscribe: Apple Podcasts | Google Podcasts | Spotify | RSS
Would you rather read the transcript? Click here.
Dr. Leslie Roberts is a large group practice owner in western Michigan. She takes the leap to join me for a live coaching call that will likely resonate with many of you who also own group practices. Leslie and I get into a couple of questions that all of us will wrestle with at some point as our practices grow: how do you make the shift from "doing it all" (hurting your practice and burning yourself out) to "doing what you want"? And is it "worth it" to go through this transition?
If you've ever considered how you spend your time as an owner or want to move toward more of a visionary role, this one is for you!
Cool Things Mentioned
Featured Resource
I am honored to partner with PAR for 2021 to bring you featured items from their catalog! Listen to each episode for specific product recommendations and links. Learn more at www.parinc.com.
The Testing Psychologist podcast is approved for CEU's!
I've partnered with At Health to offer CE credits for podcast episodes! Visit this link to access current and past episodes available for CE credit. You can use code "TTP10" for a discount on ALL the course credits you purchase from At Health!
About Dr. Leslie Roberts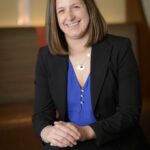 Dr. Roberts is a clinical psychologist and the owner of West Michigan Psychological Services. WMPS has three locations along the lakeshore in West Michigan. WMPS provides traditional outpatient therapy and has providers who specialize in both diagnostic evaluation and medication management.
Get in touch:
Website: www.westmichiganpsychologicalservices.com
E-mail: leslie@westmichiganpsychologicalservices.com
Facebook: West Michigan Psychological Services
Instagram: @wmpsychologicalservices
About Dr. Jeremy Sharp
I'm a licensed psychologist and Clinical Director at the Colorado Center for Assessment & Counseling, a private practice that I founded in 2009 and have grown to over 20 clinicians. I earned my undergraduate degree in Experimental Psychology from the University of South Carolina before getting my Master's and PhD in Counseling Psychology from Colorado State University. These days, I specialize in psychological and neuropsychological evaluation with kids and adolescents.
As the host of the Testing Psychologist Podcast, I provide private practice consulting for psychologists and other mental health professionals who want to start or grow psychological testing services in their practices. I live in Fort Collins, Colorado with my wife (also a therapist) and two young kids.
Ready to grow your testing services? Click below to schedule a complimentary 30-minute pre-consulting call!