Podcast: Play in new window | Download | Embed
Subscribe: Apple Podcasts | Google Podcasts | Spotify | RSS
Would you rather read the transcript? Click here.
Dr. Anthony Bean is here to chat with me about one of my favorite topics: gaming! I was so glad to find Anthony and grab some of his time. As someone who enjoys playing video games but also wrestles with the implications of playing games for both myself and my kids, this interview was both fun and informative. Here are a few topics that we get into:
The history of gaming
Research around gaming "addiction" vs. problematic gaming
Personality correlates and gaming
Gaming as assessment and intervention
Cool Things Mentioned
Featured Resource
I am honored to partner with PAR to bring you featured items from their catalog! Listen to each episode for specific product recommendations and links. Learn more at www.parinc.com.
The Testing Psychologist podcast is approved for CEU's!
I've partnered with At Health to offer CE credits for podcast episodes! Visit this link to access current and past episodes available for CE credit. You can use code "TTP10" for a discount on ALL the course credits you purchase from At Health!
About Dr. Anthony Bean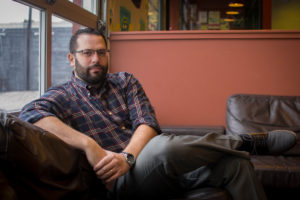 Dr. Anthony Bean is a Licensed Clinical Depth Psychologist, video game researcher, the Executive Director at The Telos Project, and the Executive Director of Geek Therapeutics, the leading agency in continued education with a dynamic focus on geek culture including evidence based practices and treatments in Geek Therapy and culture. He has been consulted as an expert for CNN, Inverse, Polygon, and internationally for Gehirn & Geist, while also appearing on Radio, Podcasts, and being a sought after Keynote Speaker and conference speaker in the United States, Canada, and Russia. He holds a Doctorate in Philosophy in Clinical Depth Psychology from Pacifica Graduate Institute and specialize in the therapeutic implications of video games and gaming, working with children and adolescents, and the use of video game character identification as a therapeutic technique. He has also authored multiple academic articles, book chapters, and the six books Working with Video Gamers and Games in Therapy: A Clinician's Guide (Routledge, 2018), The Psychology of Zelda: Linking Our World to the Legend of Zelda Series (Ben Bella, 2019), The Psychology of Final Fantasy: Surpassing the Limit Break (2020, Leyline Publishing), Integrating Geek Culture Into Therapeutic Practice: The Clinician's Guide to Geek Therapy (Leyline Publishing, 2020), The Psychology of Pokémon: The Power to Catch 'Em All (Leyline Publishing, 2022), and Checkpoints and Autosaves: Parenting Geeks to Thrive in the Age of Geekdom (Leyline Publishing, 2022).
Get in Touch:
Email: Anthony@geektherapeutics.com; Geek Therapeutics on any social media handles
About Dr. Jeremy Sharp
I'm a licensed psychologist and Clinical Director at the Colorado Center for Assessment & Counseling, a private practice that I founded in 2009 and grew to include nine licensed clinicians, three clinicians in training, and a full administrative staff. I earned my undergraduate degree in Experimental Psychology from the University of South Carolina before getting my Master's and PhD in Counseling Psychology from Colorado State University. These days, I specialize in psychological and neuropsychological evaluation with kids and adolescents.
As the host of the Testing Psychologist Podcast, I provide private practice consulting for psychologists and other mental health professionals who want to start or grow psychological testing services in their practices. I live in Fort Collins, Colorado with my wife (also a therapist) and two young kids.
Ready to grow your testing services? Click below to schedule a complimentary 30-minute pre-consulting call!