Podcast: Play in new window | Download | Embed
Subscribe: Apple Podcasts | Google Podcasts | Spotify | RSS
Would you rather read the transcript? Click here.
I am honored to have a true legend in our field on the podcast today. Dr. Michael (Mike) Posner has been researching the construct of attention for over 50 years. His work has been cited nearly 170,000 times according to Google Scholar, firmly cementing his place as one of the most prolific scholars in cognitive neuroscience. I'm lucky enough to talk with Mike not only about his research but also his perspective from being in the field for the past few decades. Here are just a few topics that we touch on:
The history of attention research
The evolution of cognitive neuroscience and imaging studies
Mike's theory of attention and its components
Cool Things Mentioned
Featured Resource
I am honored to partner with PAR for 2021 to bring you featured items from their catalog! Listen to each episode for specific product recommendations and links. Learn more at www.parinc.com.
The Testing Psychologist podcast is approved for CEU's!
I've partnered with At Health to offer CE credits for podcast episodes! Visit this link to access current and past episodes available for CE credit. You can use code "TTP10" for a discount on ALL the course credits you purchase from At Health!
About Dr. Michael Posner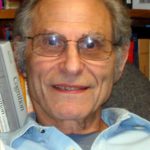 For more than fifty years Michael Posner has studied how mental operations, particularly those related to attention, are carried out by neural networks. He has used cognitive, imaging, and genetic methods. In 1998 he was founding director of the Sackler Institute at Weill Medical College. He continues research as Prof. Emeritus of Psychology at the University of Oregon and Adjunct Prof. at Weill Medical College. He has received many honors including elect to NAS 1981, 2009 the medal of science by President Obama, and in 2017 he was awarded the Franklin Medal in Computer and Cognitive Science.
Get in touch:
email: mposner@uoregon.edu
About Dr. Jeremy Sharp
I'm a licensed psychologist and Clinical Director at the Colorado Center for Assessment & Counseling, a private practice that I founded in 2009 and have grown to over 20 clinicians. I earned my undergraduate degree in Experimental Psychology from the University of South Carolina before getting my Master's and PhD in Counseling Psychology from Colorado State University. These days, I specialize in psychological and neuropsychological evaluation with kids and adolescents.
As the host of the Testing Psychologist Podcast, I provide private practice consulting for psychologists and other mental health professionals who want to start or grow psychological testing services in their practices. I live in Fort Collins, Colorado with my wife (also a therapist) and two young kids.
Ready to grow your testing services? Click below to schedule a complimentary 30-minute pre-consulting call!